---
Joseph Lawson
---
Joseph is the Head of Academics at AFEX Group. As Regional Manager of Afex Group in East Africa, Joseph guides students as they navigate the U.S. and Canadian college applications process. Joseph is an experienced SAT tutor and has assisted over 150 students to place in the top 5% of all test takers worldwide. He is an alumnus of the University of Ghana and a Certified Project Manager Professional.
---
Brian Fleischer
---
After scoring in the top 1% of all test takers for the SAT, he proceeded to Stanford University where he studied Human Biology and African Studies. At Stanford, he served as a Resident Assistant during his junior and senior years where he facilitated community building and mentored his peers. Brian will be continuing to medical school this fall at the David Geffen School of Medicine at UCLA. A teaching assistant at Stanford and an SAT tutor for the past 5 years, Brian is excited to bring into his classes his energy, expertise, and insight.
---
John Koomson
---
John's perfect score in the SAT Mathematics and the Math 2 subject test helped secure him a full scholarship to study Computer Science and Mathematics at Amherst College. He is currently a Koenig scholar, a Meiklejohn Fellow, and a Math Tutor Fellow - by professor's recommendation - for the Department of Mathematics and Statistics. As part of his duties as a Math Tutor fellow, John provides extra assistance to students in Calculus and ensures they get the directed focus they need to succeed. Having previously worked as a Math tutor at AFEX and served as a Conversation Partner for the Five College Center for the study of World Languages, John has a lot of experience in conveying new information in a manner which can be easily understood by students and hopes to help his students realize how interesting and fun mathematics can be.
---
---
Prince Tuffour
---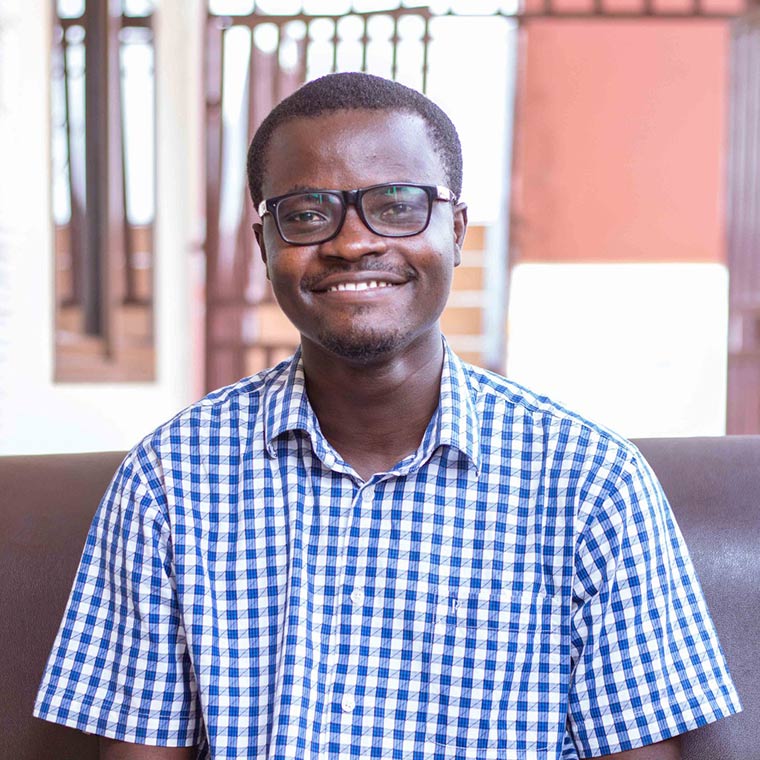 As one of the most passionate SAT tutors in Afex, Prince wrote the SAT twice and had a perfect Math score in all the tests. Prince worked with Future Leaders Education Empowerment Foundation(FLEEF) Ghana as a mentor and a tutor. As the valedictorian in the Mathematics Department at Kwame Nkrumah University of Science and Technology, Prince established an organization to assist his fellow students in various topics in Mathematics in the department. Having an innate passion for teaching, Prince always has a unique way of making math fun and easier to understand. Prince has assisted more than 100 students in scoring above the 96th percentile in SAT math and is excited about working with students.
---
---
---
Richard Ntiamoah
---
A first-class honors Graduate in Statistics at Kwame Nkrumah University of Science and Technology (K.N.U.S.T) and currently a Financial Aid Consultant and Mathematics Tutor at AFEX Group. Ntiamoah is passion-driven when it comes to empowering students to foster their interest in the study of Mathematics Programs and eradicating the negative perception students and the society have about the subject. He was the president of the Mathematics students' associations both at K.N.U.S.T and at the national level. Having mastered teaching SAT, GRE & GMAT Quantitative, Ntiamoah is well acquainted with the curriculum and knows what it takes to achieve grades! He has helped at least 43 students to attain an SAT Math score that falls in the 96th percentile together with test-takers globally. His style of teaching includes usage of real-life situations in explaining various Mathematics concepts. He believes that this helps students to understand, organize, analyze and structure their Mathematics knowledge and apply it as required by the test in getting the students ready for college and graduate school.
Why Choose AFEX?
---
Number 1 Test Prep Center based on students test scores and scholarships awarded.
---
We sensitize test takers to think like test makers
---
We teach strategies that lead to the highest scores on the real SAT/ACT/GRE/GMAT/TOEFL/IELTS
---
Management experience spans over 30 years in US tertiary education
---
Well-trained teachers who are able to unlock the potentials in all students
---
Logistical details is the hallmark of our test preparation program.